Undergraduate Programme
To develop an understanding of people and situations in Japan in social and cultural context
Major Programmes
| | |
| --- | --- |
| The major programme in Japanese Studies is an intensive and rigorous undergraduate programme that includes training in both Japanese language and in Japanese culture and society. The highlight of the program is a year of study at a university in Japan as an exchange student. The Department has exchange partner relationships with over 19 top universities in Japan in areas such as Kyushu, Nagoya, Osaka, Kyoto, and Tokyo. Students may apply for scholarships to help cover expenses of the exchange program. In addition to attending classes in Japan, all students are expected to complete a major field-research project and, based on this research, to submit a final-year project in their third-year of study. In the first and second years of study, major students are required to take courses in Japanese language (available for students with different levels of previous training), Japanese culture and society, and field-research methods. The third-year is spent in Japan. In their forth year of study, students return to the Chinese University where they meet with their research supervisors to write their final-year project, and take elective courses in Japanese language and studies, along with other courses required by the University. | |
Minor Programmes
To get the most current information of JAS minor programmes for your curriculum, please refer to the Browse Program Information section in CUSIS.

Help on the Browse Program Information section in CUSIS as of 2013/09/12.

Direct link to the Browse Program Information section in CUSIS as of 2013/09/12.
Other Short-Term Exchange Programmes
The Department hosts several summer exchange programme every year.

2019 Oita
Homestay Programme

2019 Karaimo 
Homestay Programme

2019 KAPIC 
Programme

 
 
 
What do our graduates say?
Postgraduate Programme
To develop an understanding of people and situations in Japan in social and cultural context
Taught Programme - Master of Arts in Japanese Studies
Taught Programme – Master of Arts in Japanese Studies (Study Mode: Part-time)
The Programme aims to provide a rigorous education in Japanese studies from inter-disciplinary and multi-disciplinary perspectives for students who have not majored in Japanese studies or Japanese language programmes, and for students who have majored in Japanese studies and who would like to build upon their knowledge with advanced study in specialized topics. The Programme offers language-related courses for students who have already achieved high levels of Japanese language proficiency (N1 on the Japanese Language Proficiency Test).
At the conclusion of the program, students will be able to:
identify and critically analyze major social science theories and approaches in the study of Japanese society and culture;
identify and articulate key social and cultural issues affecting modern Japan;
recognize and apply appropriate approaches in understanding a variety of social and cultural issues in Japan, think critically and constructively about Japan, and be able to apply critical thinking to analyze other societies and take positive actions in everyday situations.
Duration (Part-time)
Normative Study Period: 2 years
Maximum Study Period: 4 years
Admission

Admission Requirements
All applicants shall have:
graduated from a recognized university and obtained a Bachelor's degree, normally with honours not lower than Second Class; or
graduated from an honours programme of a recognized university with a Bachelor's degree, normally achieving an average grade of not lower than "B"; or
completed a course of study in a tertiary educational institution and obtained professional or similar qualifications equivalent to an honours degree; and
fulfill the "English Language Requirement for Admission" prescribed by the Graduate School before they are admitted.
https://www.gs.cuhk.edu.hk/page/EntryRequirements for details.
*Knowledge of Japanese Language is not required.
Applications Procedure
All required supporting documents should be submitted to the Department of Japanese Studies before the application deadline.
The required supporting documents include:
Submit Online Application Form
(https://www.gradsch.cuhk.edu.hk/OnlineApp/login_email.aspx);
Official transcripts and grading schemes of all tertiary level studies attended by applicants*;
(Applicants holding CUHK qualification(s) may submit photocopies of their CUHK transcripts via RES. Unofficial copy downloaded from CUSIS will not be accepted.)
Copies of degree certificates;
Applicants who obtained degrees from universities in Mainland China are required to provide an Online Verification Report of Higher Education Qualification Certificate (教育部學歷證書電子註冊備案表) issued by the CHESICC(學信網).
Documents showing the applicant has fulfilled the Graduate School's English Language Proficiency Requirement#;
Applicants are required to invite TWO referees to complete the Confidential Recommendations Report. After you have successfully submitted the application, you can input information of the TWO referees through the Online Application System for Postgraduate Programmes.
Photocopy of Hong Kong Identity Card or other identity document;
Assessment report from the HKCAAVQ, if necessary; and
* Official Transcripts must reach the Department of Japanese Studies sent DIRECTLY from the University.
Note:# For TOFEL / IELTS, only the original valid official score report sent directly from the respective test organization will be accepted. Original examinee's score report will not be accepted.
Successful applications will be recommended to Graduate School for admission. Applicants may login to the Online Application System for Postgraduate Programmes from November 2021 to August 2022 to view the application result, accept/decline admission offer and other registration procedures.
Please refer to the General Requirements and Documents Required of the Graduate School for further details.
Tuition Fee
HK$121,000 for the whole programme within normative study period (Subject to review )
2022-23 Admission Online Application Deadlines: 
1st round: 22 November 2021
2nd round: 4 February 2022
3rd round: 31 March 2022
4th round: 22 April 2022
Final make-up round: 20 May 2022
Applications will be processed on a rolling basis until all places have been filled. Therefore, early applications are strongly encouraged.
Applications submitted after 22 April 2022 may be considered in make-up round , subject to availability of places.
Graduation Requirements

Students are required:
to complete 24 units of courses with at least 3 units selected from the core course list (* actual course offerings vary from year to year)
to achieve a minimum cumulative GPA of 2.0
If a student fails a course, s/he must enroll in an additional 3-unit course and receive a passing grade in order to complete the degree. A supplementary course fee is applied.
Continuing Education Fund (CEF) – for students admitted in 2020-21 and thereafter:
This course has been included in the list of reimbursable courses under the Continuing Education Fund.
This course is recognized under the Qualifications Framework (QF Level 6).
CEF Course Title : Master of Arts in Japanese Studies
CEF Course Code : 38M122804
For eligibility and reimbursement procedure of CEF, please refer to
https://www.wfsfaa.gov.hk/cef.
Further details to students who may apply CEF reimbursement is available HERE.
Inquiries
E-mail: MAJS@cuhk.edu.hk
Telephone: 3943-6479
Master of Arts in Japanese Studies 2022-23 Admission Brochure
Click HERE to view brochure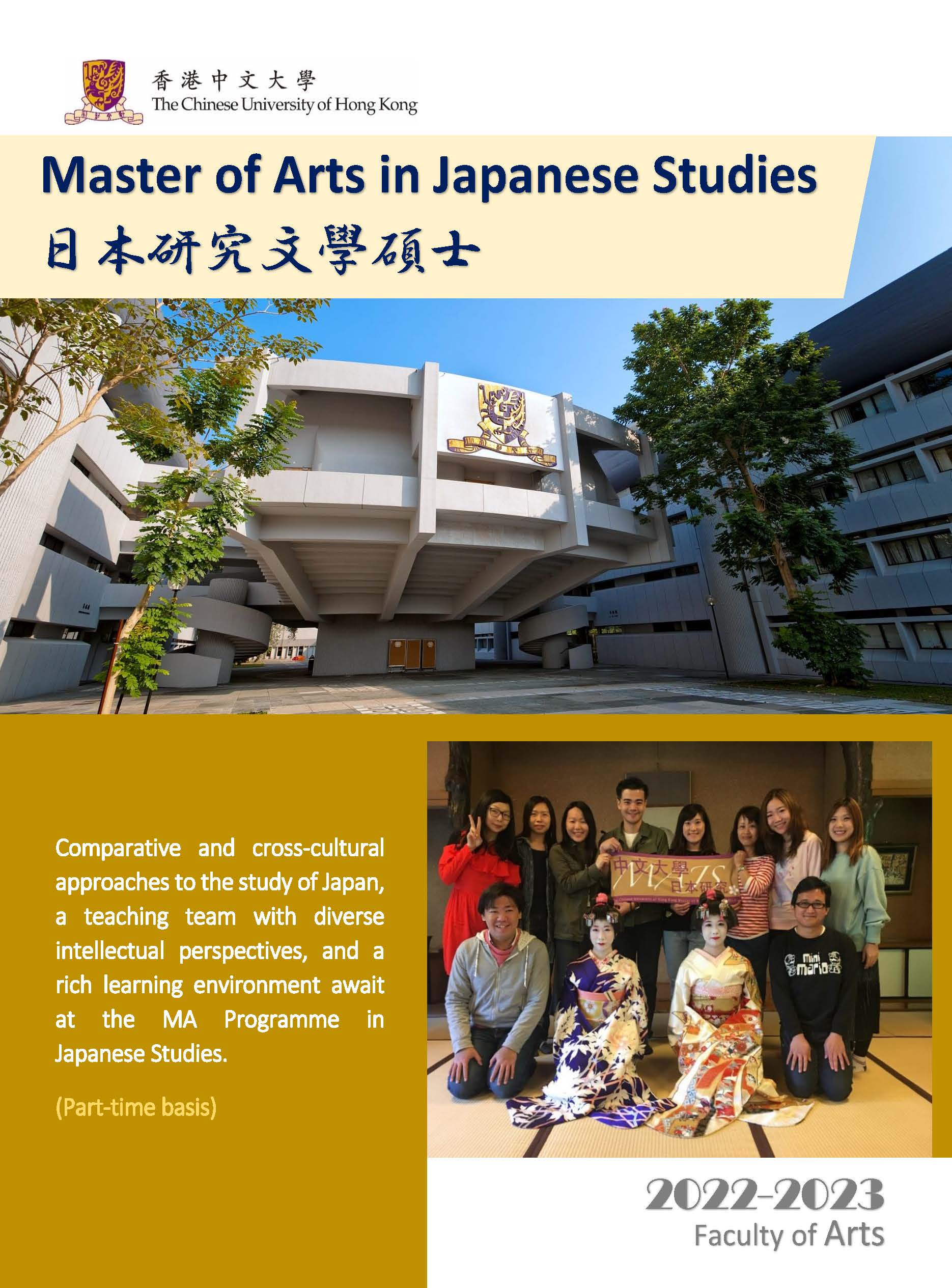 22-23 Information Session Materials Sharing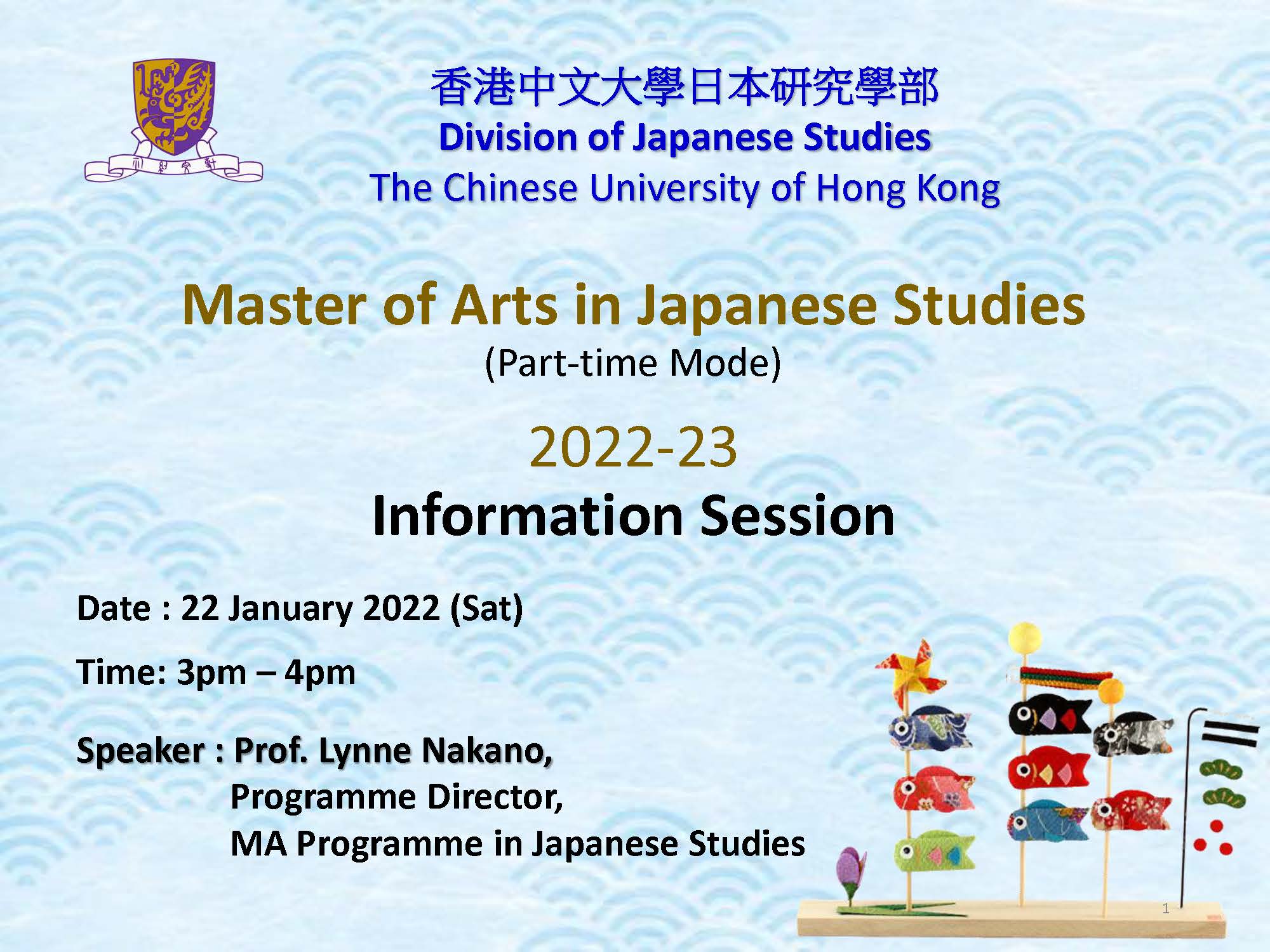 22-23 Information Session Zoom Recording (solely for reference purpose. The content is subject to change when necessary)
Passcode: n#FE3F%C
 Study Scheme and Course Offering
To browse 2021-22 Study Scheme for reference, please click HERE.
Master of Arts in Japanese Studies Course Offering for 2021-22 .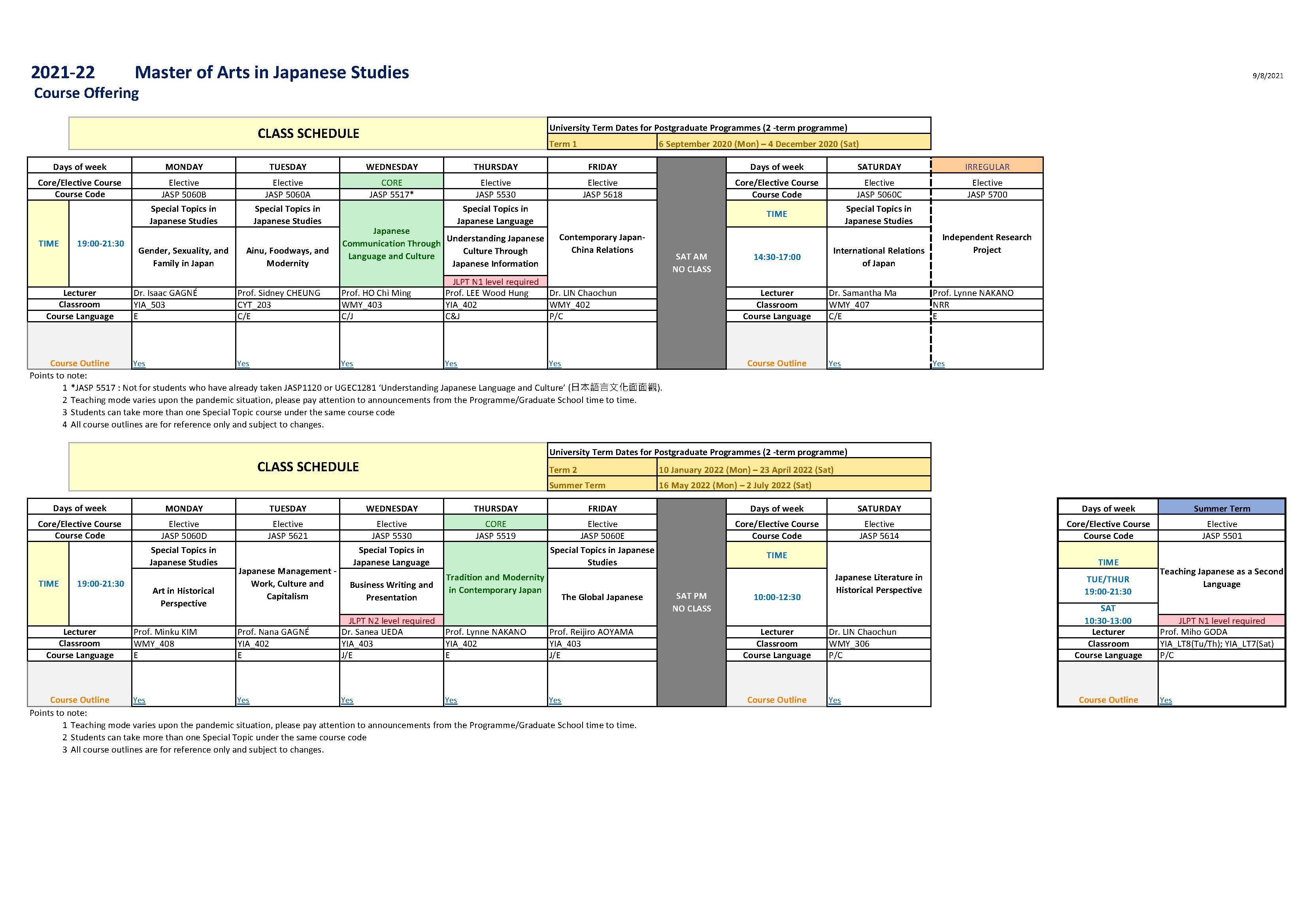 Research Programme - Articulated M.Phil - Ph.D. Programme in Japanese Studies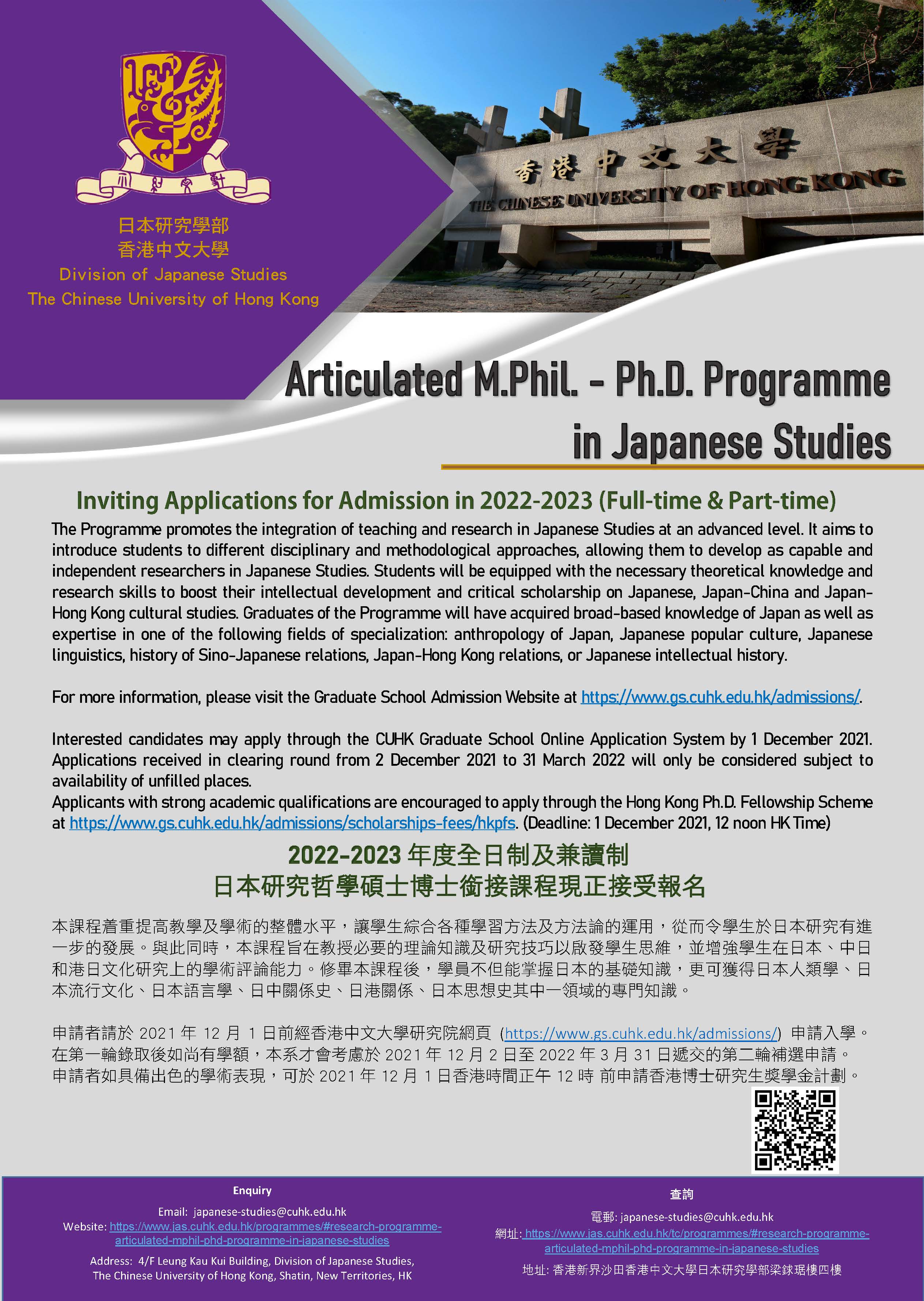 Information Session Powerpoint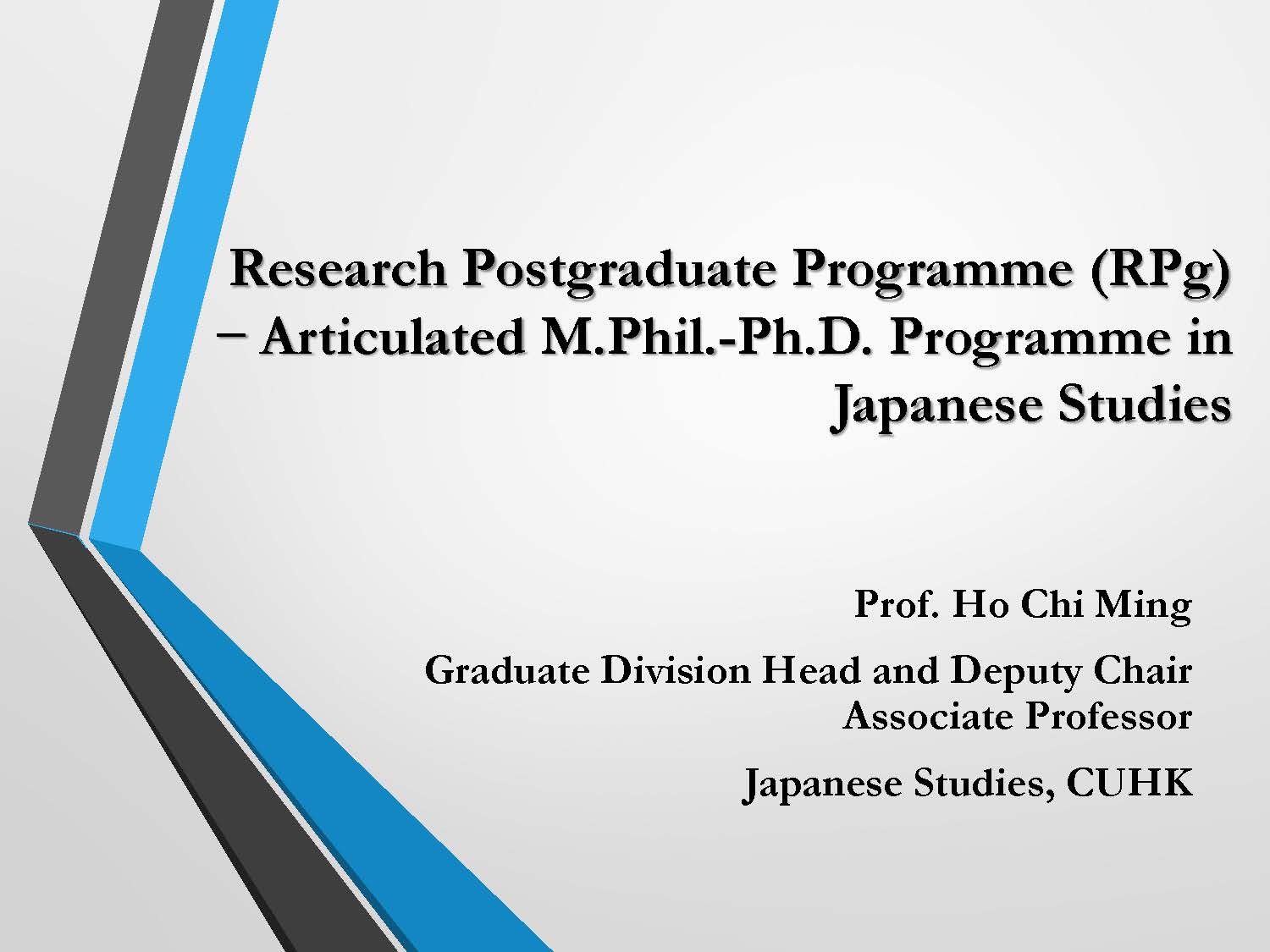 The Articulated M.Phil.-Ph.D. Programme in Japanese Studies will accept applications for the 2022-2023 academic year. The Programme promotes the integration of teaching and research in Japanese studies at an advanced level. It aims to introduce students to integrate different disciplinary and methodological approaches, allowing them to develop as capable and independent researchers in Japanese studies. Students will be equipped with the necessary theoretical knowledge and research skills to boost their intellectual development and critical scholarship on Japanese, Japan-China and Japan-Hong Kong cultural studies. The Programme builds on the Department's proven track record of graduate training in historical and contemporary studies of Japan, with the greater goal of advancing the multidisciplinary field of Japanese studies. The acquisition of these skills will be reflected in the course of doctoral studies as well as in the students' theses.
Graduates of the Programme will acquire broad-based knowledge of Japan as well as expertise in one of the following fields of specialization: anthropology of Japan, Japanese popular culture, Japanese linguistics, history of Sino-Japanese relations, Japan-Hong Kong relations, or Japanese intellectual history; possess the necessary skills to conduct research at an advanced level; complete a thesis based on original research that contributes to Japanese studies; obtain oral presentation skills to fully explain their research aims, methodologies and conclusions; be able to defend their research claims when questioned by experts; and have the ability to present their findings at international conferences.
For more information, please visit the Graduate School Admission Website at https://www.gs.cuhk.edu.hk/admissions/programme/arts#mphil-phd-in-japanese-studies.
Interested candidates may apply through the CUHK Graduate School Online Application System at https://www.gs.cuhk.edu.hk/admissions/admissions/how-to-apply.
Applicants with strong academic qualifications are encouraged to apply through the Hong Kong Ph.D. Fellowship Scheme at https://www.gs.cuhk.edu.hk/admissions/scholarships-fees/hkpfs.

Application Deadlines:
Applications for PhD Programme through the Hong Kong PhD Fellowship Scheme (HKPFS): 1 December 2021, 12 noon Hong Kong Time.
Applications for M.Phil. – Ph.D. Programme directly with CUHK:
1 December 2021 (Main Round);
31 March 2022 (Clearing Round: Applications will only be considered subject to availability of unfilled places)
Please click here for more details on the research topics of our current MPhil/PhD students and graduates.
For further inquiries, please contact the Department at japanese-studies@cuhk.edu.hk.
Useful Links - Graduate School
Graduate School