JUPAS
For JUPAS admission requirements, please refer to the information from the Office of Admissions and Financial Aid
(http://admission.cuhk.edu.hk/jupas)
Note:
Proficiency in Japanese language is not an admission requirement. Students who know Japanese are required to take the placement tests for taking appropriate level of Japanese appropriate levels of Japanese language courses when admitted.
The quota for JUPAS admission in 2020 intake is 22.
Admission scores for 2019 intake:
JUPAS Catalogue No.
Programme/ Stream
Target
Percentile
CHI
ENG
MATH
LS
M1/M2
Best
Elective
2nd Best
Elective
3rd Best
Elective
Total
Reference
Score
Selection
Principle
 
 
UQ
5
5*
4
3
 
5*
5
 
26
 
JS4068
Japanese Studies
M
5*
5
5
5
 
4
4
3
25
Best 5
 
 
LQ
4
5
5
4
4
5
4
 
23
 
Non-JUPAS (Local & Senior-Year Entrants)
We accept non-JUPAS (local) students. For admission requirements, please refer to the website of the Office of Admissions and Financial Aid.
Senior-year entrants (for HD and AD applicants) will study two years at the University to graduate. Students of this kind are reminded with the following:
Students are required to possess Japanese Language Proficiency Test (N2) level or equivalent when admitted (admission requirement). Students who have prior knowledge of Japanese (beyond Japanese Language Proficiency Test (N2) level) before admission should seek the advice of the Department to take substitute courses, as appropriate. Approved courses taken in substitution for other courses will be included in the Major GPA calculation.
Students are required to collect data for their final-year projects (FYP) during the summer after their first year of study.
The Department will not send senior-year students to Japan for mandatory exchange. Students are encouraged to join summer exchange programmes organized by the Department or jin the exchange programmes of other CUHK departments (Need to extend to graduate).
All major students are required to sit for the Japanese Language Proficiency Test (N1) before they graduate.
The quota for 2020 intake is 4.
Non-Local
The Department has a few quota for non-local students every year. For admission requirements, please refer to the information posted on the website of the Office of Admissions and Financial Aid.
Important Dates (admission talk, interviews, etc)
Admission talks will be held during the CUHK Orientation Day (a weekend in October) and S6 Consultation Day (a weekend in May) which are organized by the Chinese University of Hong Kong.
Admission interview will usually be held after the release of the HKDSE results. Please note that only students who put our programme as Band A choice will be invited for interview.
FAQs
Japanese Language
1. Will I enjoy admission advantage if I know the Japanese language?
No, candidates who know Japanese are not given admission advantage. But once they are admitted, they can advance further in Japanese language learning.
2. If I take Japanese in HKDSE, will this be counted as an elective?
It will be counted as an elective (Score conversion: A=5, B=4, C=3, etc.)
Interview
3. What is the format of admission interview?
It will be a group interview.  Admission Interview for 2020 intake to be confirmed.
4. What language will be used in the interview?
English will be used as the language medium in the interview.
5. What criteria does the admissions committee use when evaluating candidates in the interviews?
During interviews, the admissions committee looks for candidates who demonstrate that they are articulate in expressing their ideas in English, and are independent learners, self-motivated, open-minded, and curious about the world around them.
6. What kind of questions will be asked in the interview?
Questions vary a great deal, and may not necessarily be about Japan. As stated above, the admissions committee wants to know whether the candidate is knowledgeable and curious about the world including Japan, their own, and other societies, is able to reflect on their own experiences, and express themselves well in English.
7. What is the dress code for the interview?
The admissions committee does not make judgments based on appearances, but in our experience, most candidates wear business attire.
8. Should I select Japanese Studies in Band A before and/or after the release of the HKDSE results in order to maximize my chances of being invited for an interview?
The Department will invite the top students who select Japanese Studies as their Band A choice after the release of the HKDSE results.
Applicants with Associate-Degree/High Diploma qualifications
9. Is there any senior-year admission in Japanese Studies?
Yes, we have a quota of four (2020-2021) for sub-degree holders. The admission requirement is Japanese Language Proficiency Test (N2).  Students admitted through this channel will study for two years at CUHK to graduate.
10. Will senior-year entrants be sent to Japan for a year of exchange?
No, they will not be sent for a year of exchange to Japan because of academic scheduling issues and exchange quota limitations. Rather, the Department will encourage them to participate in short-term exchanges during summer or join other exchange programmes organized by the University.
11. Are senior-year entrants required to submit the final-year projects?
Yes.
Exchange
12. In the year of exchange, do I need to pay the tuition fee?
Students on exchange are required to pay tuition fee to the Chinese University of Hong Kong but not the host university in Japan.
13. How much money should I prepare for the year of exchange?
It may vary considerably. Generally, students need to prepare at least HK$80,000 for accommodation, meals, transportation and other basic expenditures in addition to the tuition fee to the University.
14. How many credits can I earn back during exchange?
The University has a guideline on how to transfer credits.  Students can transfer up to 21 credits to the major programme.  In addition, students may apply to transfer credits for electives from other CUHK departments with the permission of those departments.
Statistics
The following statistics of 2017 intake are for your reference only:
All band applicants: 3,440
Quota for first-year-first-degree: 24
Quota for senior-year entrants: 4
Taught MA Programme
Master of Arts in Japanese Studies
(Study Mode : Part-time)
Admission Requirements

All applicants shall have:
graduated from a recognized university and obtained a Bachelor's degree, normally with honours not lower than Second Class; or
graduated from an honours programme of a recognized university with a Bachelor's degree, normally achieving an average grade of not lower than "B"; or
Completed a course of study in a tertiary educational institution and obtained professional or similar qualifications equivalent to an honours degree.
English Language Proficiency:

To fulfill the University's minimum English language requirements for admission to postgraduate programmes, applicants should have:
1. obtained a degree from a university in Hong Kong1 or taken a degree programme of which the medium of instruction was English; or
2. achieved scores in the following English Language tests2 as indicated:
1. TOEFL: 550 (Paper-based)/79 (Internet-based);
2. IELTS (Academic): 6.5;
3. GMAT (Verbal): Band 21; or
3. obtained a pass grade in English in one of the following examinations:
1. Hong Kong Advanced Level Examination (AS Level);
2. Hong Kong Higher Level Examination;
3. CUHK Matriculation Examination;
4. General Certificate of Education Examination (GCE) Advanced Level (A-Level)/Advanced Subsidiary Level (AS-Level); or
4. achieved Level 4 or above in the English Language subject of the Hong Kong Diploma of Secondary Education (HKDSE) Examination; or
5. obtained a recognized professional qualification, provided that the examination was conducted in English.
1. This is based on the understanding that English is the medium of instruction of degree programmes offered by universities in Hong Kong. Moreover, graduates from universities in Hong Kong should have fulfilled the English language requirements of the institution concerned when they were admitted to the degree programmes. The CUHK Graduate School may request applicants to provide additional supporting documents to prove their English proficiency.
2. TOEFL and IELTS are considered valid for two years from the test date. GMAT is considered valid for five years from the test date.
Please refer to the General Requirements of the Graduate School. Knowledge of Japanese Language is not required.
Inquiries:
E-mail: MAJS@cuhk.edu.hk
Telephone: 3943 6479
2021-22 Admission Application Deadlines: 
1st round: 1 December 2020
2nd round: 11 February 2021
3rd round: 31 March 2021
Applications will be processed on a rolling basis until all places have been filled. Therefore, early applications are strongly encouraged. Applications submitted after 31 March 2021 may be considered, subject to availability of places.

Articulated M.Phil - Ph.D. Programme
Information Session Powerpoint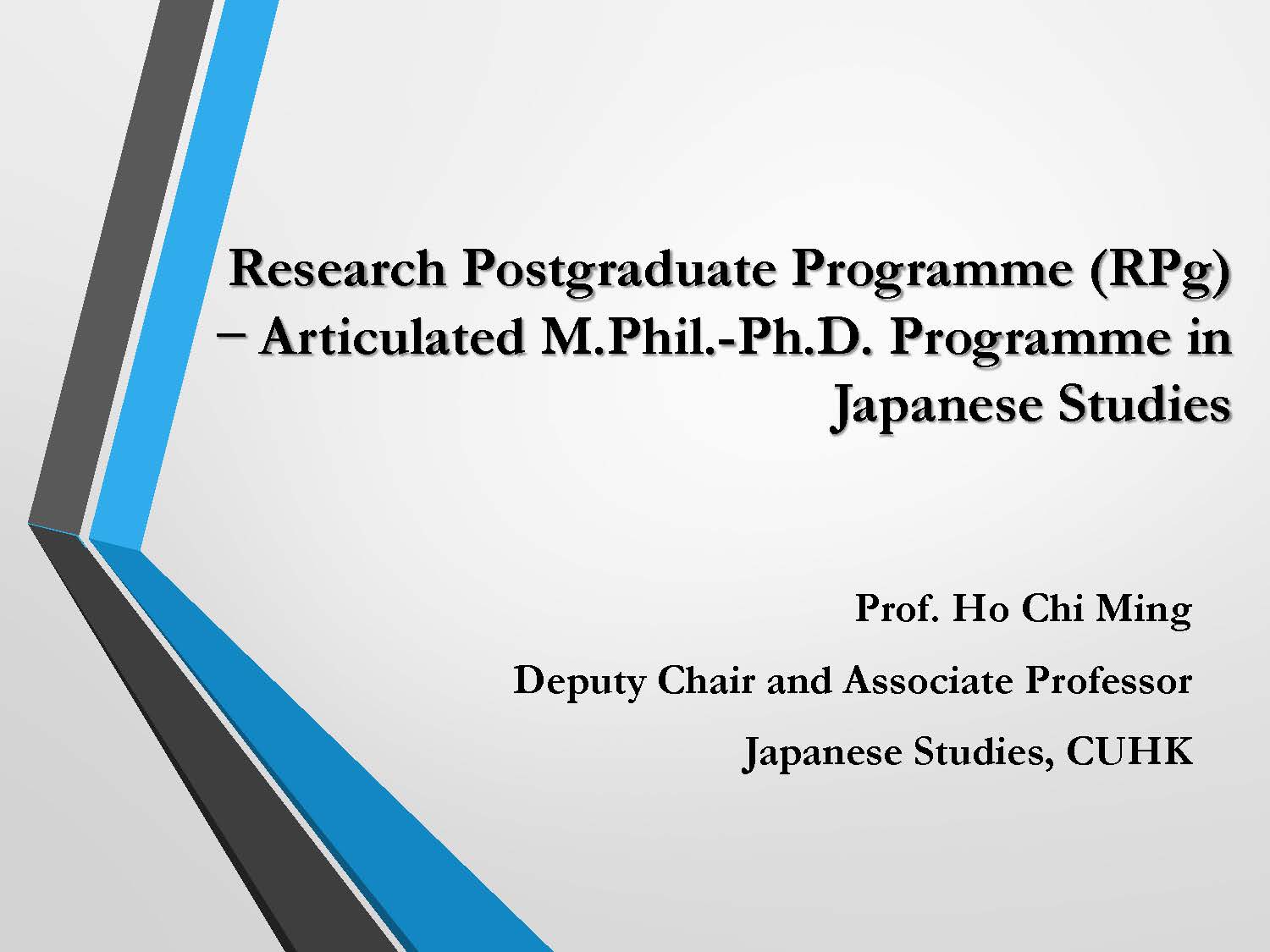 Application Deadlines:
Applications for PhD Programme through the Hong Kong PhD Fellowship Scheme (HKPFS): 
2 December 2019, 12 noon Hong Kong Time.
Applications for M.Phil-Ph.D Programme directly with CUHK: 31 January 2020.
For further inquiries, please contact the Department at japanese-studies@cuhk.edu.hk.
Useful Links - Graduate School
Graduate School